For Information on becoming a vendor at the 2019 Iowa Metaphysical Fair.
Please go to the contact page.
We are Sold out of Booths.
We have a lot of new vendors at the fair this year
The Iowa Metaphysical Fair emphasizes positive spirituality in all its potentiality. You will find wonderful services &
goods related to Spirituality, Metaphysics & Holistic Health. Readers & Energy workers, all types will be available.
One of the largest fairs of its kind in the US with over 100 vendors.
Vendors will offer crystals, books, jewelry, tarot cards, salt lamps, art work to name a few.
Take in a gallery reading, listen to a lecture, enjoy belly dancing This is a family friendly fair.
All of our readers and healers have gone through a significant screening process with independent people
establishing that they are professional, ethical, sincere, and skilled.
Find insight, transformation, guidance, advice, counseling, and more with our many mediums and intuitive readers.
Enjoy a deep-tissue massage or light-touch energy work from caring and skilled practitioners.
This Years Theme
Spirituality of the World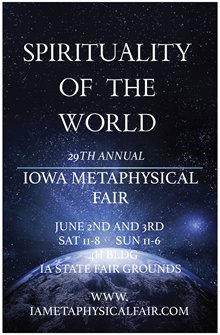 The Iowa Metaphysical Fair is a
Nonprofit Volunteer Organization
The Fair Organizers /
Board Members are not Paid
All IMF Profits go to local Iowa Charities
This Years Commercial
Volunteers are Always needed
To volunteer e-mail
president@iametaphysicalfair.com
We wish to Thank
The Iowa School of Metaphysics
For all of their Help setting up the fair
515-255-5570 desmoines@som.org
This years charities:
We are getting sleeping bags and
Giving them to the homeless
&
Helped get a computer for
The Iowa School of Metaphysics
Also
We are helping pay to feed and train the puppy
From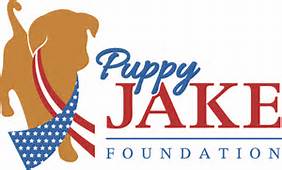 http://puppyjakefoundation.org
Kenley's Crew
Against type 1 diabetes!
2018 Gift Basket Donors
Light Communication Concepts Charles Tiemann

Insight by Candlelight Kayde

Epic Eateries

CLEAR VISIONS BY DENISE Denise Vazquez

Lauracle Compassionate Psychic Guidance

Garden of Fire and Water Kirby and Kayde Heidt

Angel Lynn

Kim Weaver Evidential spiritual medium and channel

Dream Weaver Designs Pat Jones

Intuitive Tarot By Katrina

Su Walker Clairvoyant and Medical Intuitive

Toni's Tarot

Cathy Lindsey Astro Eyes Evolutionary Astrology

Live Intuitively Shawnie Denucce

Light Communications Concepts Healing Arts Center Jan Currie

Laura Offermann, RN, LMT, Creative Grief Coach Owner, Spirit of the Bluffs

Chiropractic in Motion Dr. Shannon White

Claudia Diltz Bio-Energetic Jewelry
For Information on becoming a vendor at the 2019 Iowa Metaphysical Fair.
Please go to the contact page.
Remember we keep the vendor list up to date all year long so you can use this as a resource guide
Vendor List has been recently updated
Designed by Charles Tiemann.
Copyright © 2017 All rights reserved.